- by Lalrinawma Zadeng, UK.
[caption id="attachment_12883" align="aligncenter" width="720"]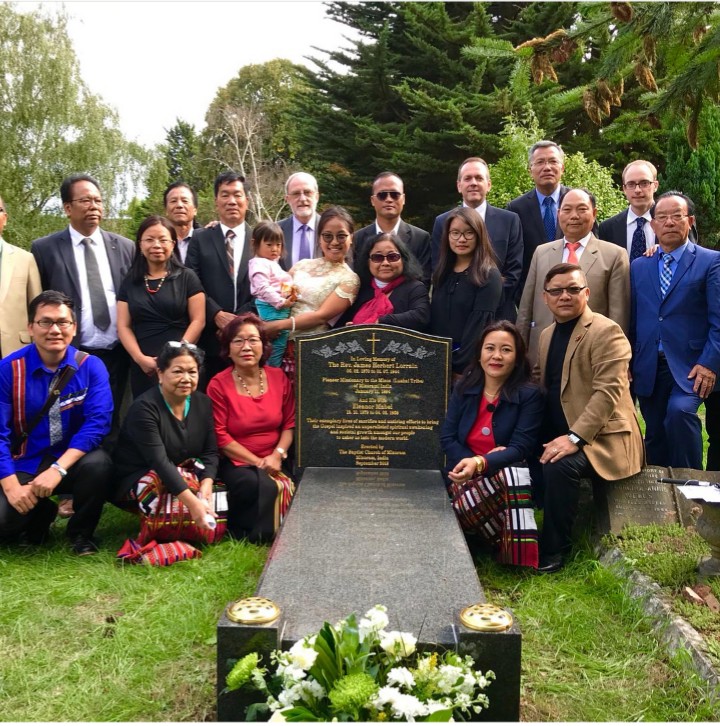 Sap Upa leh Pu Buanga Thlanah Memorial Service[/caption]
Baptist Church of Mizoram (BCM) hruaitute leh Kohhran mite thahnemngaihna azârah Sap Upa leh Pu Buanga te thlânlung siamthat hna chu August 2018-a zawh fel an ni a. Tin BCM leh Baptist Missionary Society (BMS), UK te tangrual leh UK Zofate (UK-a zofa chêngte) tawiawmnain lung phunna inkhâwm program pawh hlawhtling taka neih a ni. He program hmang tur hian BCM aiawhin Rev. F. Ramdinmawia (GS), Rev. Lalbiaksanga Chinzah (President), Rev.Dr. C. Vanlaldika (AGS) leh Rev. R. Zohmingliana (AGS) te an kal a. Tin, anni hi Rev Dr PL Lianzuala, Pu K.Lalsanga (Ex MLA) te nupa, Pu C. Zorammuana (IPS Rtd), Pu V. Lalengmawia (Manager, BPP), Pi Lalengmawii Fanai leh Pi Vanhlalhlupuii ten an rawn tawiawm bawk. Hemi lungphunna program hi 14th September a neih niin ni khatah program chhâwng thum angin a kal a. Program tlângpui hetiangin a ni.
[caption id="attachment_12933" align="aligncenter" width="720"]
Memorial Service @ Heaven Green Baptist Church with Mizo Community in UK[/caption]
Thlânmuala hunserh hi hmun hnihah hman niin, chawhma 10:30Am-ah Sâp Upa thlân, Stretham Cemetery, Cambridgeshire-ah hunserh hman a ni a, tin hemi zawh hian London kan pan leh vang vanga 3Pm-ah Pu Buanga thlân, South Ealing Cemetery, London-ah hunserh hman leh a ni. Hêng program ah te hian Mizoram lam atanga he hun hmang tura rawn kal te bâkah UK Zofa member thenkhatte leh BMS hruaitute an rawn tel bawk. Hunserh ve ve hi BMS lam atangin David Kerrigan (General Director, Rtd)-in kaihruaiin hun duhawm tak hman a ni a, tin BCM President Rev. Lalbiaksanga Chinzah leh BCM General Secretary Rev F. Ramdinmawia ten hmun hnihah hian thu tawi an sawi ve ve bawk a ni.
[caption id="attachment_12932" align="aligncenter" width="720"]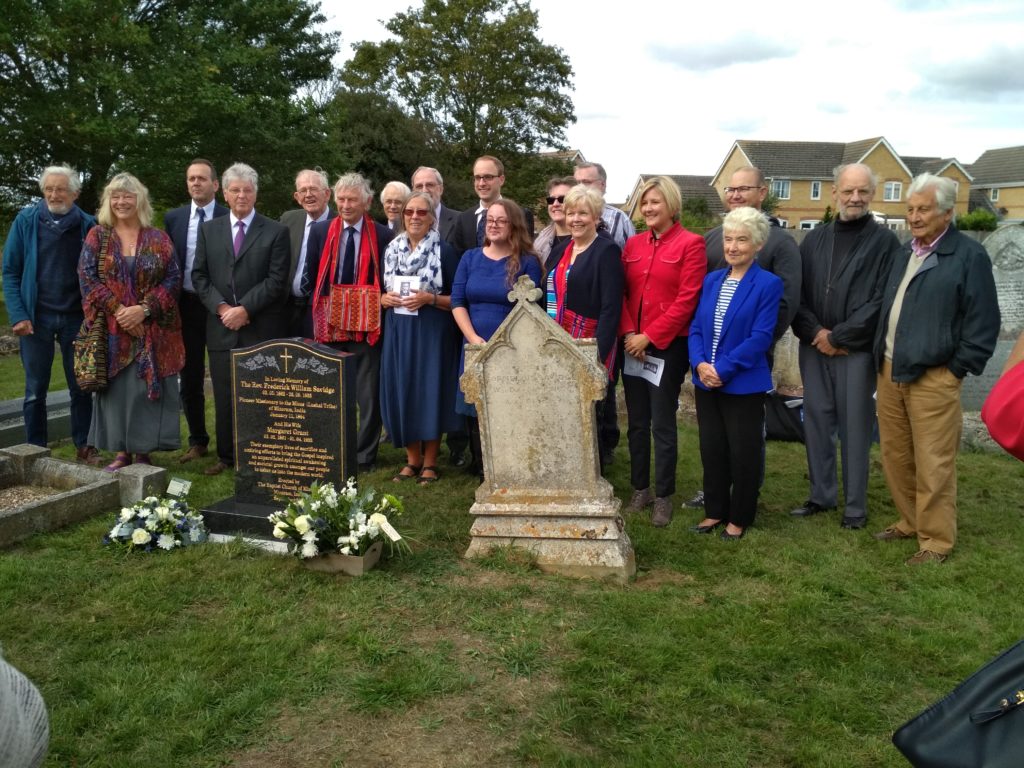 Sap Upa Thlan-ah a lawina Stretham Baptist Kohhran member te[/caption]
Sâp Upa thlânah hian mipuiten 'Chatuan Lungpui Aw Krista' tih kan sa a, tin Pu Buanga thlânah hian 'Ka Lalpa duhtak min awmpui ang che' tih kan sa bawk. Thlânmual hunserha tel zawng zawngte hian Serkawn lei BCM hruaituten an rawn ken chu Sâp Upa thlân leh Pu Buanga thlânah te kan phul kual den den a ni. Hêng hunserh hmannaah te hian hun kan hmang tha hle a, a bîk takin chawhmaa Sâp Upa thlâna hunserhah hian kan beisei aia tam a khua leh a bul hnaia mite an rawn tel a, chûng zînga challang zualte chu –
Rev. Natalie Andrews (Vicar, St James' Church,  Stretham), Sue Marchant (BBC Radio), Janet Savidge (Sâp Upa farnu tunu), Mike Petty, MBE (Historian) leh Sâp Upa lo zirna thin Kings School, Ely atangin zirtîrtu thenkhatte an rawn tel bawk a. Tin Westminster College, Cambridge University-a an professor a rawn tel bawk. BBC Radio lam atanga rawn kal Sue Marchant hian program kal mêkte record-in a chhimtu mi hrang hrangte interview-na a nei a. Hemi program hi tawitêin 17th September 2018-ah BBC Radio Cambridgeshire-ah broadcast ve nghe nghe a ni. Thlânmuala hunserh zawhah hian Historian Mike Petty-an Sâp Upa te chhûngkua sûlhnu chhuiin he khua Stretham hi min fan kualpui a, kan mit leh beng a tlai hle. Tin, he khaw biak in St James' Church-a Kohhran miten chhûn chaw min lo buatsaihsak bawk a, kan tlaiin kan lâwm hle a ni.
Tichuan tlai 5Pm-ah a khaikhâwmna leh chawhlui kîlhona Haven Green Baptist Church, Ealing, London-ah neih a ni. He biak in hi Pu Buanga te nupa sâprama an lêt leh hnua an lawina biak in a ni a, he Kohhran member-te pawh hian min lo ngai pawimawh der ve êm êm a. He kan va inkhâwmna atân an biak in leh a hall hman man Indian Rupees Sing Thum vêl lai tur chu a thlâwnin min hmantîr nghe nghe a ni. Tin anmahni Kohhran inkhâwm Sunday zingah pawh BCM hruaitute hi thu tlêm sawina hun leh video clip play-na hun an pe leh bawk a ni. Sâp Upa leh Pu Buanga lungphunna inkhâwm hi Rev C. Vanlaldika (AGS)-in hneh taka kaihruaiin hun tha tak kan hmang a. He inkhâwmah hian BMS, BCM leh UK Zofate bâkah Haven Green Baptist Church member thenkhatte an rawn tel bawk a. Tin Sâp Upa tunu Anne Quick leh Anne-i fapa Andrew Quick te an rawn tel a. Presbyterian Church of Wales lam atangin Rev. Aneurin Owen (Pu Awena fapa Pu Zolâwma) a rawn tel a, Salvation Army General Headquarters, London atangin Lt. Col. Lalhming Liana a rawn tel bawk.
Vânneihthlâk tak maiin Pu Buanga in thina chêng mêk Derek Rees a rawn tel thei bawk a, ani hian Pu Buanga sûlhnu bungrua a lo rochun te zing atangin lehkhathawn, thlalâk leh thil dang chi hrang hrang te Pu Buanga suitcase hlui ngei maiin a rawn khai phei bawk. Thinlung a khawih hle a ni. He inkhâwmah hian thusawi mi hrang hrang hnên atangin kan ngaithla a, chûngte chu David Kerrigan (General Director, Rtd), Rev. Lalbiaksanga Chinzah (President, BCM), Rev. F. Ramdinmawia (GS, BCM), K. Lalsanga (Ex-MLA), Lalrinawma Zadeng (Secretary, UK Zofate) leh  Anne Quick (Sâp Upa tunu) leh Andrew Quick (Anne Quick fapa) te an ni. Mipui ten hla 'Damlai tuipuiah', 'A hmangaihna fakin i zai ang' leh 'Khawngahna mak mawi leh duhawm' hlate kan sa a. Tin Pi Lalrindiki Khiangte (Daduhi) leh Pi Felicia Singson ten zai mawi takin min awi bawk a. Tichuan Rev. R Zohmingliana (AGS)-in malsâwm tawngtainain a khâr ta a ni.
Inkhâwm bânah Biak in Hall-ah BCM-in UK Zofate kal tlanga an chawhlui buatsaihte kîl hona kan nei a, kan tlai hle a ni. Tin hetah hian Derek Rees-an a thil rawn ken Pu Buanga bungraw hluite leh BCM/UK Zofate'n an lo buatsaih Banner mawi leh hlu tak tak te chu inkawm khâwm pahin kan thlîr ho leh bawk a, kan hlim hle a ni. Pu Buanga'n India ram chawimawina sâng Kaiser-i-Hind medal a lo dawn ngei mai pawh a takin a medal leh an hlanna lehkha ziakte Derek Rees-a zârah hian kan hmu bawk. Hêng kan program hrang hrangah te hian tisa leh thlarau lamah kan hlâwkpui êm êm a, thinlung a khawihin Sap Upa leh Pu Buanga te hnathawh leh inpêkna lo ropuizia kan hrechhuak thar nasa hle a ni. Hetia an thlânlung te siamthat a lo ni a, mite tân tlawh theih tûra an awm ta hi BCM hruaitute leh Kohhran mipuite hmalâkna te hi fakawm kan ti hle a ni. Hei hian a tharin, kan thinlungah an hnathawh ropuizia leh Pathian hmangaihna thûkzia min hriatchhuah tirtu lo ni zêl rawh se.