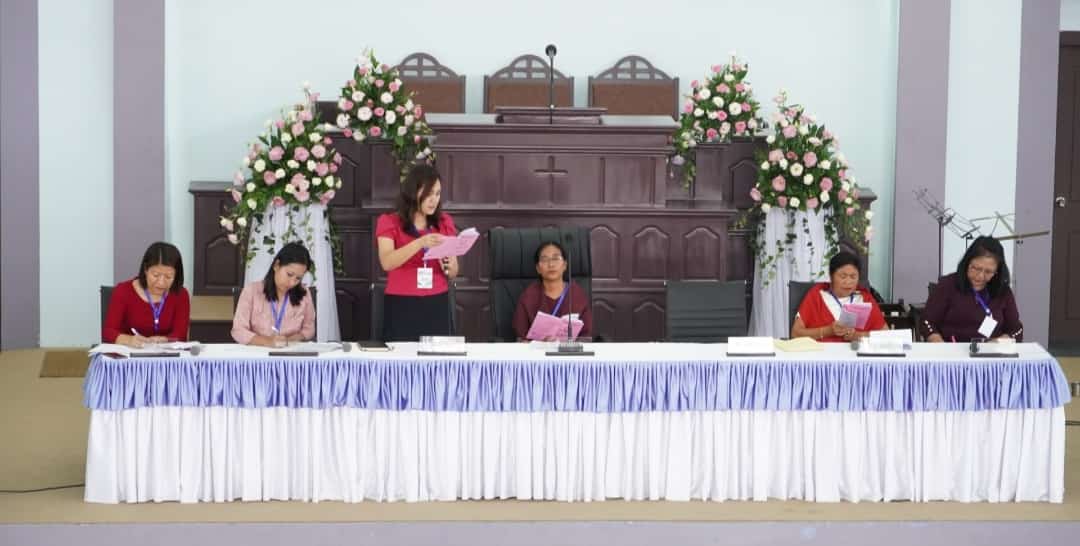 May 26, 2023 (Zirtawp) zan atanga tanin India hmar chhak Kristian Hmeichhe Pawl inzawmkhawm North East India Christian Council, Women Assembly (NEICC-WA) Inkhwmpui vawi 14-na chu MBKHP-in BCM Biak In, Venglai, Lunglei-ah an thleng a. Inkhamwpui thupuiah Sam 126:3 thu - "Lalpan thil ropui tak te min tih sak a, kan lawm hle a ni" tih thu hman a ni.
He Inkhawmpui hi NEICC President Rev. R. Lalnunzira leh NEICC Secretary Rev. Dr. Ramengliana, ten hmanpuiin, BCM Hruaitu te pawhin an tawiawm tha hle. NEICCWA hnuaiah hian Hmar chhak hmeichhe pawl Unit 37 an tel a, tun tum Assembly-ah hian Unit 27 atangin palai 448 an telin, Zaipawl te nen mikhual 492 an kal a ni.
Zirtawp zanah Palai lawmna leh Inkhawmpui hawnna neih a ni a, Mrs. Margrete Ronghang, President, NEICCWA –in Inkhawm kaihruaiin, Rev. Dr. Ramengliana, Secretary NEICC-in Thupui sawihawnna leh thlirlawkna a nei.
May 27, 2023 (Inrinni) zing dar 7 ah Homosexuality: A theological perspective tih thupui hmangin Seminar neih a ni a, Resource Person-ah NEICCWA Asst.Secretar - Ellen Hlychho hman a ni. Zing Dar 9:15 am ah Rorel tan a ni a, Rorel-ah hian palai member 380 an tel.
Kumina an rorel thu passed zingah-
- NEICCWA Biennial Assembly thlengtu Unit chu Rs.50,000/- (singnga) in tanpui thin ni tawh se tih te, Khawvel sik leh sa inthlak danglamah boruak lum a lum chho hle tawh a chuvangin Unit tinin thingphun ni se tih te, Eco-theology lam hawiin Seminar neih ni se tih te an rel a, kum 2023-2025 atan NWICCWA hruaitu thar thlangin hengte hi thlan an ni:-
Office Bearers
President: Lalduhawmi Sailo (Tripura Baptist Women Society)
Vice President: Ruokuovinuo Noudi (Nagaland Baptist Council of Churches)
Secretary: Jessie Lalramneli (Baptist Church of Mizoram)
Asst.Secretary: Lalthansangi (Mizoram Synod)
Fin.Secretary: Malsawmdawngliani (Biateram Synod)
Treasurer: Rupelties Synjri (Church of God Meghalaya/Assam)
Executive Committee Members:
GM.Rymbai (KJP Synod, Minghi)
Hannah Lalthanhnieng (Evangelical Free Church of India)
Laltanpuii (Manipur Synod)
V.Biaklawmi (Mizoram Baptist Women's Fellowship)
Lt.Col.C.Lalhriatpuii (Salvation Army)
Nonlih Konyak (Assam Baptist Council)
Hasani Koch (Lower Assam Baptist Council)
Appledalyne Kharsyntiew (KJP Synod Sepngi)

Manipur buaina avangin an tawrhna chu NEICCWA-in a hriatpui a ni tih puangin, Rorelna hian Pathianni zing inkhawmah an pualin tawngtai rualna neih leh tanpuina bawm hun ni se a tih a tih angin, Assembly chhungin anmahni tanpui nan bawm hun a ni a, hetah hian Rs. 57,460/- (singnga sang sangsarih zali, sawm ruk) hmuh a ni.
Inrinni zan-ah Vantlang Inkhawm awmin Dr. Buno Iralu (NBCC palai) hnen atangin thuchah ngaihthlak a ni a, Pathianni-ah nilengin Inkhawmpui Programme hmangin, zing 6:30-7:30 -ah Lalpa Zanriah Sacrament kilho a ni a, chawhma lamah Vantlang Inkhawm awmin, Chawhnu dar 1:30-4:00-ah pawh Vantlang Inkhawm a awm leh a, Pathianni zan inkhawm chu Hruaitu hlui thlahna leh hruaitu thar lakluhna inkhawm atan hman niin, NEICCWA Prsident kalchhuak tur Pi Margerete Ronghang-in thu a sawi a, Rev. R. Lalnunzira, President, NEICC-in Hruaitu thar lakluhna neiin, NEICCWA Secretary Nl. Jessie Lalramnelin lawmthusawina a nei bawk. Inkhawmpui chhung hian Inkhawm apiangin Mizoram Pawn leh ram chhung atanga Kohhran hrang hrang te atangin Zaipawl thiam tak takin fakna hla an rem thin a ni. Assembly chhunga inkhawm thawhlawm chu Rs.1,74,270/-(nuaikhat singsarih sangli zahnih leh sawmsarih) a ni.